We all know the benefits of carrying a reusable bottle - to reduce plastic waste, go green on our lifestyle, and hydrate in style from a cool tank, just naming a few. From a large pool of water bottles, 64 oz water bottle has morphed into a new frenzy as a statement piece on the trendy and young.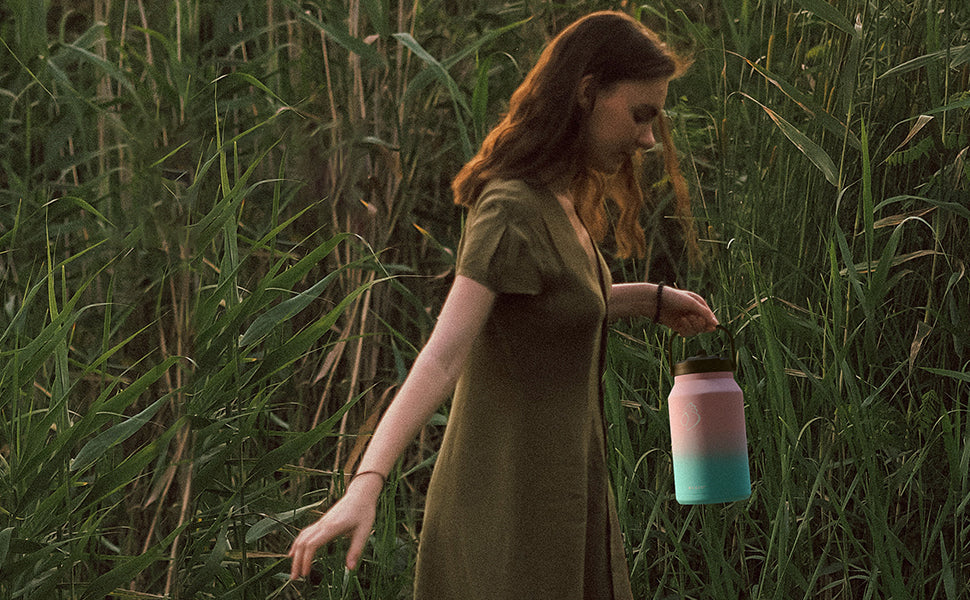 As the "hydrate to a health build" consciousness picking up, we see a big bump in the sales of 64 oz water bottle and most important of all, it has swept up a wave in tipping our lifestyle to the healthy end.
64 Oz Water Bottle is Now The Day to Day Water Bottle
64 ounce of water is known to suffice for a whole day's need of fluid intake. If the 8 glasses of water each day sounds familiar to you, then carrying a 64 oz water bottle saves you all the hassle of refilling and keeping track of your trips to the tap. You just need to fill it up before leaving the house, tossing in as much ice as possible, and then you are all set for a fulfilling day in the office, on the trek, or in the gym. An extra bonus, with nowadays insulation technology, you are assured of a whole day of revitalizing iced water.  
The Top Features We Look for in a 64 oz Water Bottle
Lugging a 64oz water bottle around may sound like a bummer from the look of it. However, once you experienced all the perks from it, traffic is no longer an issue. With vacuum insulation technology consummating, insulated water bottle has become a new norm in the hydration department.
With a compact and lightweight build, a 64 oz water bottle takes little effort to carry on its own. Once it's full, it won't weigh you down like a glass bottle. Most 64oz water bottles feature a sturdy handle, sometimes even a carrying pouch, so that you can sling it on your shoulder to set your hands free. Large but not bulky, the new 64 oz bottle is engineered with a super functional straw, so it delivers all the convenience of a tumbler, but with double sustainability in terms of volume.
Sturdy built, powder coated, and 100% sealed with a handle and straw lid, BUZIO 64oz water bottle tackles all the challenges a massive insulated bottle comes with. It won't leak if being knocked over, ready to go wherever you set out for, and is reliably robust out in the wild or on the trek. Thousands of five-star reviews testify its popularity and impeccable quality. Get it now if you are new on this subject, you will be filled with happy thoughts every time it refreshes you with joyfully chill beverages.
A Look Into Our Current Hydration Fixation
"Fashion fades, only style remains the same." The tide of water bottles have turned many times from when they became a viral. One truth remains - drinking a lot of water is a must and is good for your health. The intriguing part is that owning which brand name, which has become a topic piece or a benchmark in certain circles.
There was a time everybody carrying a specific bottle of a certain brandname to show their solidified taste to the extent that water bottles have been incorporated into their dress code. One college student noticed this craze, and said "Because everybody had it, down to the professors. The students had it, the kindergarteners had it, everyone had this water bottle." 
Reusable water bottles have transformed from being a convenience to being more on the trendy end. The most popular water bottles have set the trend like the iPhone. They run out of stock right after their release.
Interestingly, behind this style frenzy, a top executive from a leading water bottle brand noticed a new trend "And we're seeing that success even in larger sizes. 64 ounces are really popular now for us, and one of our biggest sellers now is a two-gallon jug. So hydration is, I think it's not only a trend, it's becoming more of a way of life." "We are slowly graduating from having the trendiest water bottle to having the biggest." This ideology shift has led to the philosophy of drinking lots to tone your body. In the process, 64 oz water bottle has survived the pickiest and became a new standard in hydration. Read more on Logan Mahan's How Carrying a 64-Ounce Water Bottle Became a Lifestyle.  
Those hydration enthusiasts love what water brings to their body more than the water drinking routine. They accredit their agile body, radiant skin, even positive mindset to drinking a copious amount of water. Lugging an impressive 64oz water bottle turns from a drag to a boast of great health and smart style of living.
An influencer said, "Those who drink a lot of water can fill up a 64 oz bottle in the morning and not have to refill it for the rest of the day." From this we can tell that 64oz water bottles become a hit is no coincidence but a wise selection process. If you do not have a 64 oz water bottle, get one now. It's never too late to join in the gang of of the fittest and trendiest. Plus the emotional support a bottle offers is incalculable.