In today's fast-paced world, staying hydrated is non-negotiable. Whether you're conquering the great outdoors, crushing your workout, or simply aiming to sip in style, BUZIO has you covered. Our collection of Slim Water Bottles, available in 22 oz, 32 oz, and 40 oz sizes, redefines hydration on the go. Join us on a journey to explore these sleek and efficient hydration companions designed to keep you refreshed and revitalized.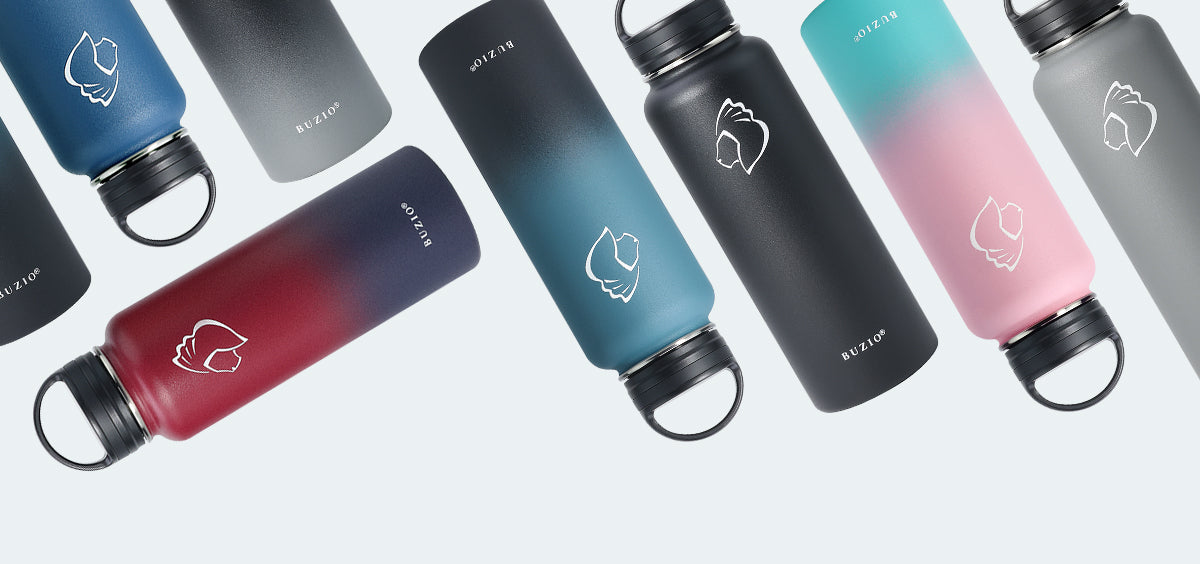 Why Choose BUZIO Slim Water Bottles?
At BUZIO, we understand the importance of staying hydrated throughout the day. That's why we've crafted our Slim Water Bottles with meticulous attention to detail, ensuring they become your constant hydration companions. Here's why BUZIO's Slim Water Bottles are the ultimate choice:
Versatile Size Options:
Our Slim Water Bottle collection includes three sizes to cater to your specific needs:
32 oz Water Bottle: The 32 oz BUZIO Slim Water Bottle strikes the ideal balance between capacity and portability. It's perfect for your daily hydration needs, whether you're at the office, the gym, or running errands. With its sleek design and durable construction, this bottle is a versatile companion that can keep up with your active lifestyle.
40 oz Water Bottle: If you're heading out for an extended adventure, the 40 oz insulated bottle has your back. With its generous capacity, it's ideal for hiking, camping, or simply ensuring you have enough hydration to last throughout the day. Despite its larger size, it remains slim and easy to carry, fitting into most cup holders and backpack pockets.
Trio Water Bottle: A versatile bottle with 3 lids that's perfect for compact hydration on the go and enjoy different ways of drinking. Whether you're commuting to work, going for a short run, or just need a quick sip, this bottle is designed for convenience. It's slim, lightweight, and easy to handle, making it the perfect choice for those who prefer a more compact option.
Duet Water Bottle: A convenient bottle with 2 lids for those looking for a smaller and simpler option. For those who value simplicity and efficiency, the Duet Water Bottle offers a streamlined solution. It's compact, making it an excellent choice for kids, quick outings, or when you want a no-fuss approach to hydration.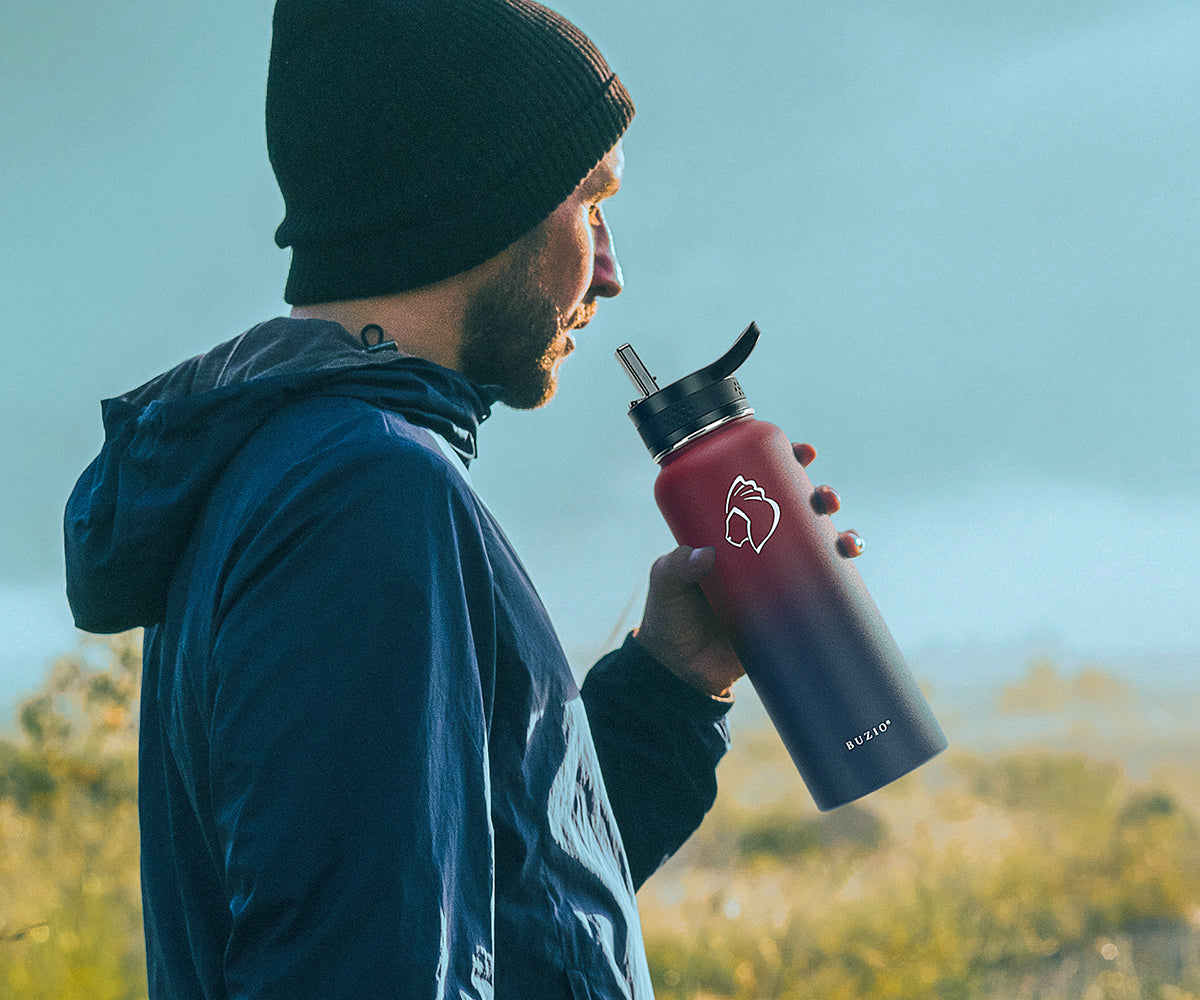 The BUZIO Slim Water Bottle Experience
When you choose a BUZIO Slim Water Bottle, you're not just selecting a functional hydration vessel; you're embracing a lifestyle. Our bottles are designed to seamlessly integrate into your daily routine, ensuring you never compromise on your hydration needs. Here's what you can expect when you make BUZIO your hydration partner:
Effortless Hydration: The easy-twist spout lid allows you to sip on your beverage without spills, even after vigorous exercise. With clean lines and a contemporary design, they effortlessly complement your outfit, whether you're at the gym or in a boardroom meeting.
Temperature Control: BUZIO's special ThermoArmour technology with double-wall vacuum keeps your drinks cold for up to 48 hours or hot for up to 24 hours, adapting to your preferences and the weather. Enjoy ice-cold water during a summer hike or sip on piping hot coffee during a chilly commute – our bottles can handle it all.
Sustainable Choice: Buzio bottles are crafted from durable, food-grade 18/8 stainless steel, making them reusable and eco-friendly. Built to withstand the rigors of daily life, they are designed to be both impact-resistant and corrosion-resistant, ensuring they stand the test of time.
Leak-Proof and Easy Maintenance: Our bottles come with a leak-proof lid, providing peace of mind whether they're tucked in your bag or sitting on your desk.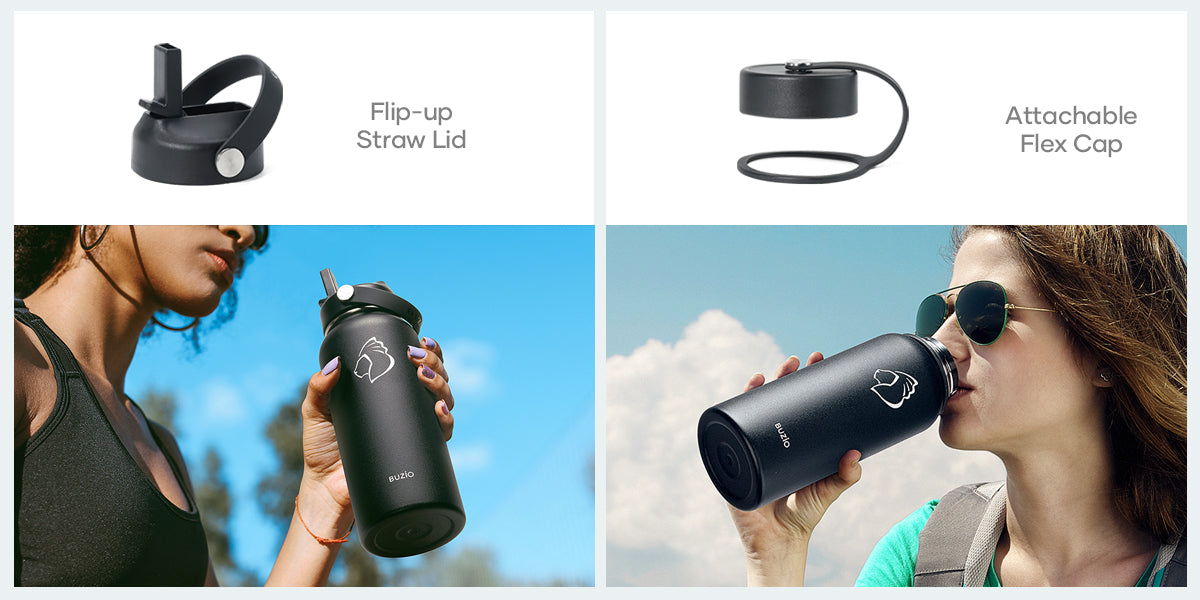 Discover Your Perfect BUZIO Slim Water Bottle
Now that you're well-acquainted with BUZIO's Slim Water Bottle collection and the benefits of staying hydrated, it's time to choose your ideal hydration companion.
Don't miss out on finding your ideal hydration partner. Explore the BUZIO Slim Water Bottle collection now to experience the fusion of fashion and function. Explore our collection here and find the size and style that suits you best. Remember, with BUZIO, you're not just buying a water bottle; you're investing in a healthier, more hydrated you.
Exclusive Savings – Hurry, Don't Miss Out!
Before you make your selection, take advantage of our exclusive savings. Whether you're looking for a single bottle or planning to stock up, BUZIO has a discount tailored for you:
Save 6%: Use code SAVE6 when your order totals $49 to $6.
Save 15%: Apply code SAVE15 for orders ranging from $79 to $15.
Save 25%: For orders exceeding $25, use code SAVE25.

Hydration should be easy, stylish, and sustainable, and BUZIO's Slim Water Bottles are designed to embody these principles. Invest in the best for your hydration journey and experience the BUZIO difference today!