Do you feel a hint of sweetness lingering in the air? Do you notice an unmistakable excitement on the faces of the kids? It is probably because Halloween is just around the corner. Do you still remember your last Halloween experience?
Whether old or young, Halloween is anticipated and appreciated due to full of fun, endless creativity and assorted spooky activities. From the creative aspect of carving jack-o-lanterns or making unique costumes, to the horrendous excitement of visiting a haunted house or hiking a haunted trail, the whole family can all enjoy themselves during the festival season. If you are still clueless about how to spend this Halloween, just follow the bucket list below to make your holiday frightfully memorable.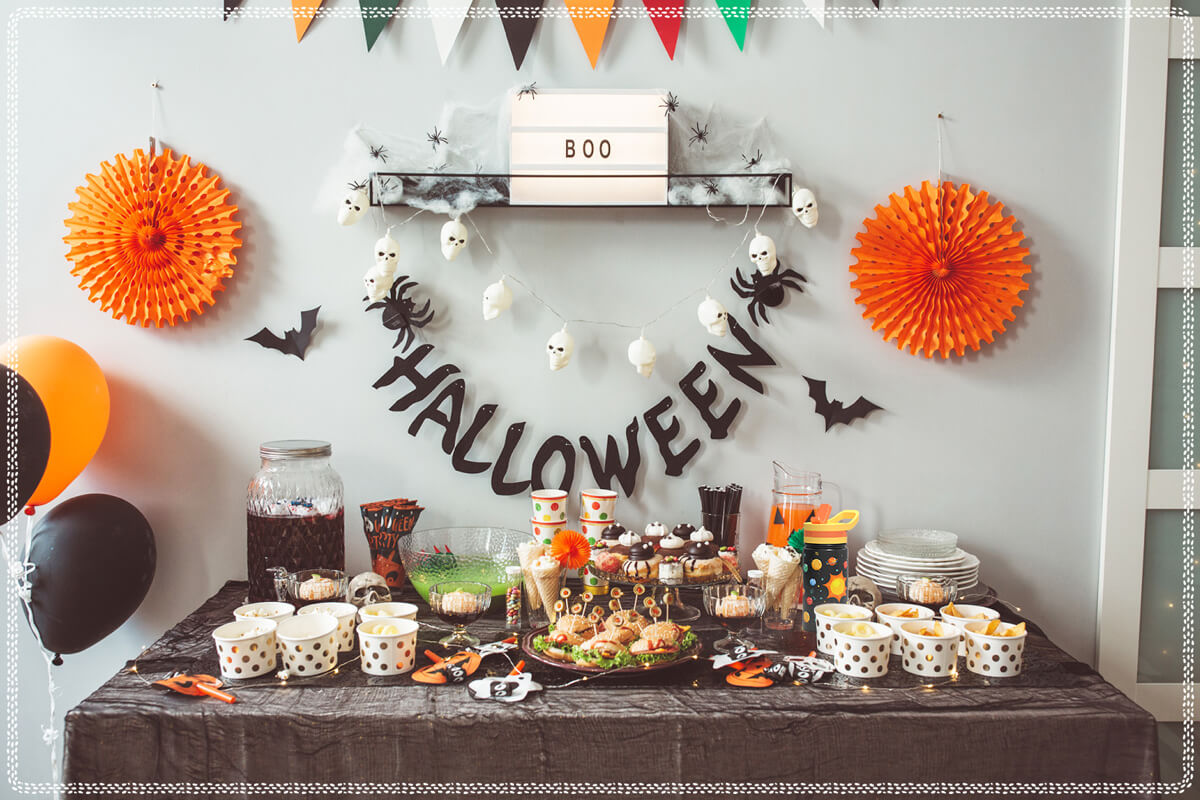 1.Go Trick or Treating
Trick or treating is probably one of the most popular activities. Kids love to dress up in creative costumes to traipse around the neighborhood collecting treats from as many houses as possible. They will perform mischief if no treat is given. So it is important to decide ahead of time what to hand out to them. It could be traditional Halloween candy, stickers, cards, cans of fun-sized Play-Doh or small boxes of crayons. If you have children, you can give them a 14 oz Buzio insulated water bottle as a gift. It keeps water hot for up to 24 hours to keep your child hydrated and warm during the traipse.
For preparation, you need to decorate your door and window or put up a sign that says "Trick-or-Treaters Welcome!" to let kids know it's a Halloween-friendly house. In the meanwhile, you can play some creepy music and light white candles to add to the festive atmosphere and carry out an "ineffective defense".
2.Make Your Halloween Costume
For creators, Halloween may be the very festival they have been waiting for throughout the year. On this day, they become fantastic witches, ghosts, devils, or vampires to hit the streets and catch the eyes of crowds as if they were at the top of the world. No one will miss the proud time.
It doesn't matter if you are not creative as the key here is to have fun: enjoy the process of picking out your favorite costume; savor the anticipation of wearing it; take pleasure in putting it on; watch other people's reactions to it; take photos in memory of your eureka moment. 
3.Visit a Haunted House or Hike a Haunted Trail
If you like something threatening and exciting, a haunted house would be the best option. At this time of the year, a variety of haunted houses spring up like mushrooms all over the place. Just find the theme that interests you and choose the scariest one near you to visit. 
If you want to do something a little bit different, hiking a haunted trail may fit you. Spend time digging the local hikes that have a lot of haunted history and stories. Then call your friends and go exploring. Nothing will be more memorable than this stirring and dramatic night.
4.Decorate Your House Inside and Outside
If you have a yard, cover your lawn full of crisp fall leaves, with a pair of old boots emerging out from piled leaves and a tombstone faintly visible. Hang orange strings of lights around the fence to raise the creep factor. For the front porch, you can decorate it with carving pumpkins, witch hats and spiderwebs. A bucket of white dead flowers and a silhouette of a dark cat will look perfect.
Gluing furry fake bats to the front door and hanging a ghost or scary clown over the entrance will add lots of ghoulish touches. Then decorate your fireplace mantle with spooky signs, bats, rats, skulls, and white candles.    
Remember to get the whole family involved in creating spooky Halloween decorations. Everyone can unleash their imagination and have fun in the creative process.
5.Do a Photo Shoot
It's also fascinating to take pictures with your family under delicate and creepy decorations. There's nothing happier and cooler than shooting against a backdrop of your own making. A dark yard, a mysterious porch, a deep fireplace - these are the best sources of photo material and imagination, plus your unique costumes. It is perfect to do a family photo shoot to remember these most wonderful times! 
6.Hold a Halloween Costume Party
If you have decorated your house creatively and creepily, then it is time to party. The costume party is popular among both the young and old. It is funny that everyone has a unique costume and behaves differently than usual.
Halloween food and drinks are also important for the party. Make the food in advance if possible. Drinks with smoked dry ice would be better. Buzio Insulated Can Cooler is a good choice for the party. It keeps cold beverages cold for 6 hours to maintain freshness and flavor.
7.Visit a Pumpkin Patch and Havea Curving Contest
Instead of purchasing a pumpkin from a grocery store, visiting a pumpkin patch to pick out your favorite pumpkins is more fun. Have your whole family do this pumpkin-picking activity together. After all, what you choose for yourself is the best. These selected pumpkins will stay with you through October for decoration and consumption.
To add to the fun, you can have a curving contest in your family or your neighborhood. Whoever curves the spookiest and most unique pumpkin wins the contest and receives a prize.
8.Watch Halloween Movies
There's nothing like a night filled with all the greatest chainsaw-wielding, spell-binding, hair-raising flicks to get you in the spooky spirit of the season. So turn off all lights, gather up your blankets and cozy up for a scary good time! Refer to 40 Classic Halloween Movies to find your favorite.
9.Lighta Bonfire and Tell Scary Stories
Instead of indoor activities, go out and light a bonfire for a thrilling and cozy night. Sit together with families around the bonfire and tell not-so-scary stories to kids. Sit around the campfire with your family and tell the kids some not-so-scary stories. The warmth of the fire dispels the late fall chill. The darkness adds a touch of spookiness. What better way to enjoy candy and scares than camping during the Halloween season?
10.Drive Around and See Fall Foliage
October is the most colorful season of the year. It is the best time to go out when the temperature is mild, the scenery is less saturated with sunlight, and the contrast of foliage and cliffs gives you a visual feast. Brilliant reds, bright yellows, and blazing oranges will make you entertained enough to forget to leave. Bringing the Buzio Insulated Water Bottle to drive around is perfect. It fits into most standard cup holders and keeps water hot for up to 48 hours. You can easily carry it for long-distance trudges with its light weight.