Sport water bottles have come a long way since their inception in the early 1900s. Today, all sorts of different types and styles of sport water bottles are available on the market, from those made of glass to stainless steel and even plastic. But what is the history behind these ubiquitous objects?
This blog post will look at the history of sport water bottles and how they have evolved over the years. We will also explore some of the different sports water bottles available on the market today.
1. The origins of the sports water bottle
The origins of the sports water bottle can be traced back to the early days of organized athletics. In the late 19th century , college and professional sports teams began using large water containers to keep players hydrated during long practices and games. These containers were made of metal or glass and had to be refilled frequently.
In the early 20th century , portable water bottles began to appear on the market. These bottles were made of various materials, including aluminium and plastic. They were lightweight and easy to carry, making them ideal for athletes.
Water bottles became increasingly popular in the 1970s as more people began participating in sports and other forms of exercise . Today, they are a piece of essential equipment for athletes of all levels. Buzio is the most powerful one.
2. The different types of sport water bottles
Water bottles have been around for a long time, but the sports water bottle is a relatively new invention. A man named Hiram Codd invented the first sports water bottle in the early 1900s. Codd was an Englishman who was also the inventor of the soda siphon. His idea for the sports water bottle was to create a container that would be easy to carry and would not leak.
The first sports water bottles were glass and had a screw-on lid. The glass bottles were heavy and fragile, so they were not practical for athletes. In the 1970s, plastic became the material of choice for sports water bottles because it was lighter and more durable than glass. Today, many different types of sport water bottles are available on the market.
Some sport water bottles are designed to be used with a straw, while others have a built-in filter . There are also collapsible sport water bottles that can be easily stored in a pocket or purse. No matter your needs, there is sure to be a sports water bottle that is perfect for you!
3. The benefits of using a sports water bottle
A sport water bottle is a great way to stay hydrated while working out. There are many benefits to using a sports water bottle, including the following:
Keeping your body hydrated.
Avoid dehydration.
Reducing cramping.
Increasing your energy levels.
Helping you recover from your workout faster.
4. Sport water bottle myths
There are many myths surrounding sports water bottles. Here are some of the most common myths:
a. Sports water bottles are only for athletes.
It is one of the most common myths about sports water bottles. While it is true that athletes need to stay hydrated during their workouts, anyone can benefit from using a sports water bottle. Whether you're going for a run or want to stay hydrated throughout the day, a sports water bottle can help you stay healthy and hydrated.
b. You don't need to clean your sports water bottle.
Another common myth about sports water bottles is that you don't need to clean them as often as other containers. That is not true! It would be best to clean your sports water bottle after every use to prevent bacteria growth. If you're using your bottle for multiple activities, such as running and biking, be sure to clean it between uses.
c. Sport water bottles are expensive.
While some sports water bottles can be pricey, plenty of affordable options are available. You don't have to spend much money to get a quality sports water bottle that will last you for years. Plenty of great options are available at your local sporting goods store or online retailers.
d. All sport water bottles are created equal.
This myth is not true! There are many different types of sports water bottles available, each with its own set of features. Some bottles are designed for specific activities, such as running or biking, while others are more versatile and can be used for multiple purposes. Be sure to choose a bottle that best suits your needs.
e. Sport water bottles are difficult to use.
This myth is also not true! Many sports water bottles have easy-to-use features, such as push-button spouts and carrying loops. These features make it easy to use your bottle on the go.
f. Drink enough water using sport water bottles
Are you drinking enough water? Studies show nearly 80% of people are not drinking enough water. If unattended, public health is injeopardy.Gearing up with the best sports water bottle can be the first step to improved overall health.
Dehydration may cause exhaustion, headaches, weight gain, joint pain, high blood pressure, and kidney disease. It also ages us. The very first sign of not drinking enough water is more wrinkles and skin issues on the face. If you want to look and put on your best show, you've got to drink the minimum of 64 ounces of water a day.
BUZIO insulated water bottles are the missing piece to your hydration puzzle. Ranging from 22oz, 32oz, 40oz, 64oz, 87oz, 128oz, and 192oz , they are not only portable, stylish, but also with excellent heat retention capabilities and abundant accessories for every occasion.
No matter you are running, cycling, weight training, or hiking , BUZIO has the right kind of bottle specifically designed for your favorite game.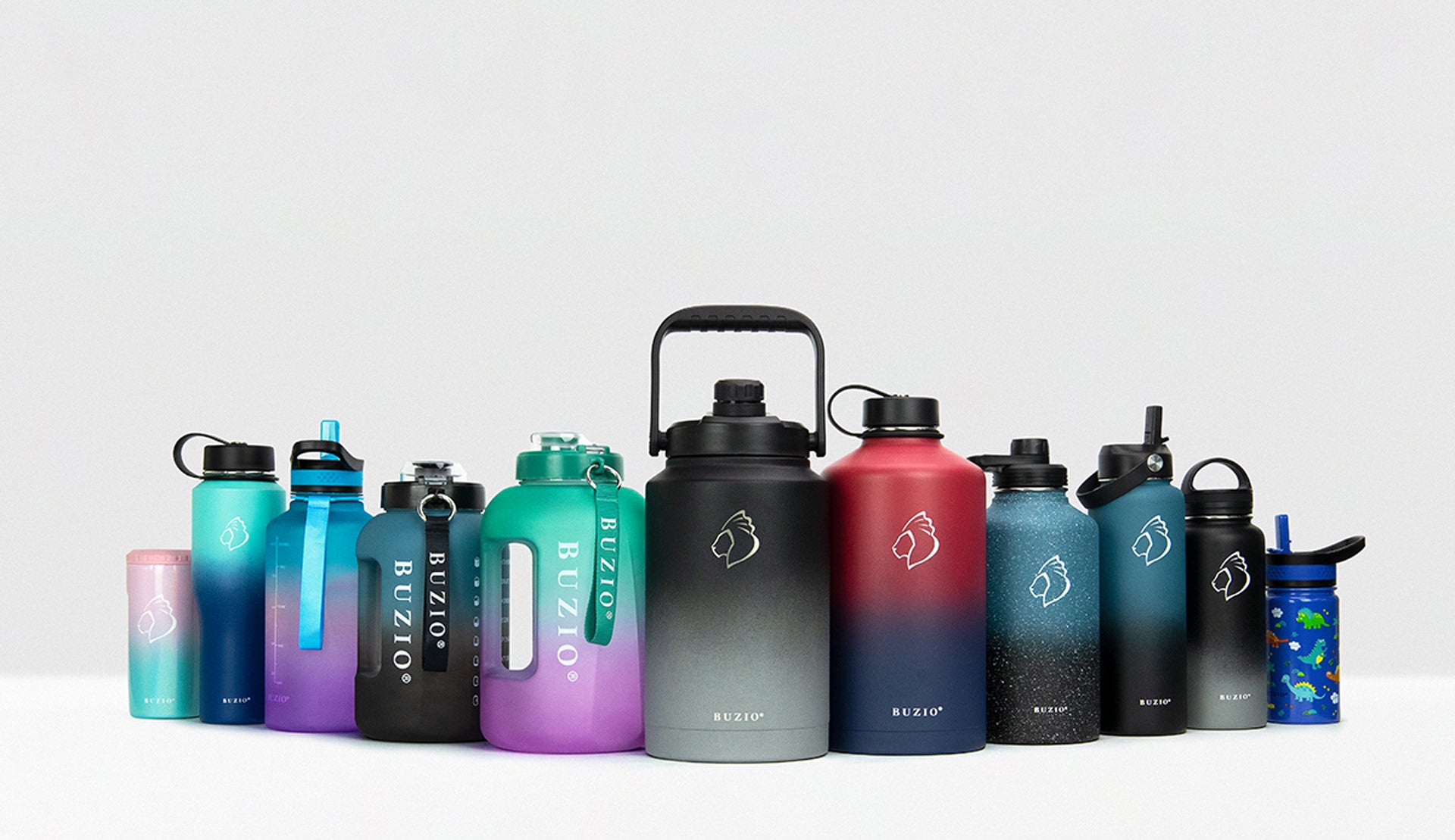 5. How to choose the right sport water bottle for you
When it comes to sports water bottles, there are a few things you should take into consideration in order to choose the right one for you.
First, think about the type of activity you will be using it for. If you need a bottle that can withstand a lot of wear and tear, then choose one made from durable materials like stainless steel or BPA-free plastic. If you want a bottle to keep your water cold during your workout, then any type of sports water bottle will do.
Next, consider the size of the bottle. If you plan on using it for long hikes or bike rides, you'll need a larger bottle that can hold enough water to get you through your entire journey. On the other hand, a smaller bottle will suffice if you're only using it for short workouts or runs.
Finally, think about how easy the bottle is to use. Some bottles come with complex lid systems that can be difficult to open and close, especially when your hands are sweaty. Choose a simpler design that is easy to open and close so that you can stay hydrated without any hassle.
6. Best water bottle series
a. ⭐Best Overall
The culmination of design, performance, and usability, BUZIO Solo Series Wide Mouth Bottle is one of a kind in its category. Sup along while you are working or working out, you will feel a good daylived when there is no more left. With an impressive 48 hours of keeping cold / 24 hrs of keeping hot capability, this water bottle keeps you hydrated with your most liked beverages. Wide mouth design is ideal for ice cube filling and washing. No condensation in any situation, grips easy.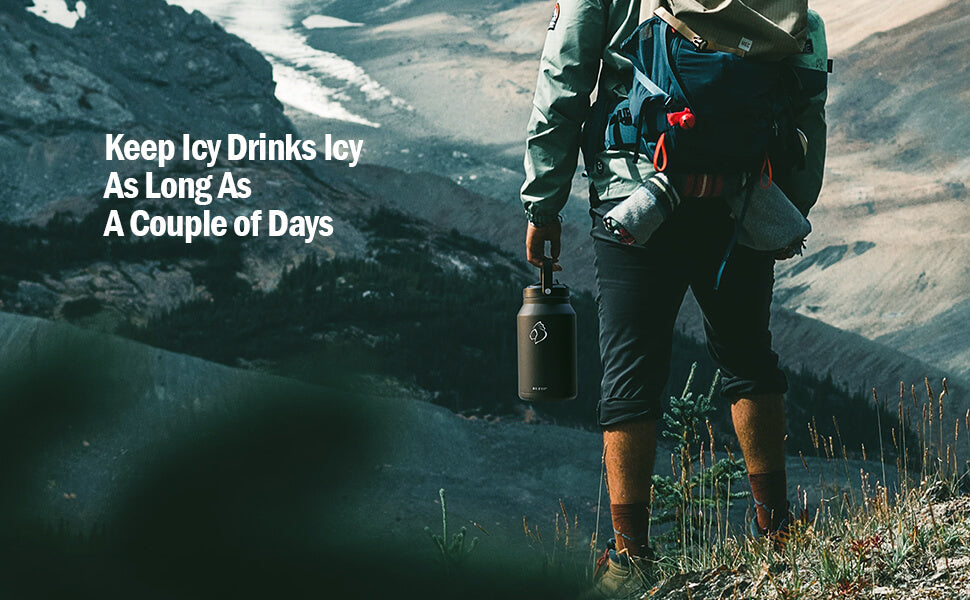 b. ⭐Best for the Gym and Beyond
When you gear up for a workout, you will have to accessorize with the most essential- water bottle. An adequate water bottle for workout must be cool-keeping, leak-proof and easy-swigging. With a carrying pouch, a non-toxic BPA-free straw lid and a flex cap, BUZIO Duet Series Insulated Water Bottle is tailor-made for gym or using on-the-go. ThermoArmour technology keeps drinks cold for up to 48 hours. Screw cap makes it easy to swig and efficiently prevents leakage.Free up your hands with a carrying pouch when you're carrying too much. Straw lid allows for one-hand operation. The powder-coated finish is slip-free even when you're pouring with sweat.
c. ⭐Best Value
Don't underestimate Pop Series Tumbler because of its cheap price. It's no compromise in performance. It keeps your drinks cold for 9 hrs and warm for 3 hrs, providing dependable hydration in daily life. Designed with a sturdy ring and ribbon, it really comes handy for travels. It's engineered with a straw lid and a flip lid, easily swapping as you please. The chic-looking see-through flip lid allows you to keep track of your drinks for extra peace of mind.
d. ⭐Best Variety
In a pool of quality water bottles with assorted colors and sizes, you will for sure gladly choose your favorite design without the least hesitation. BUZIO DUET SERIES water bottle is such a water bottle. It comes in 11 colors and 4 sizes (32oz, 40oz, 64oz, 87oz). You definitely don't want to ruin your OOTD (Outfit of the Day) just because of a mismatched water bottle. Get two or more to match your dailystyle. You will also need different capacities of water bottles to use on different occasions - home, workout, work, camp.
e. ⭐Best for Active Families
An active family can't go out without bringing a water bottle. BUZIO TRIO SERIES Insulated Water Bottle features 3 functional caps for various family activities. The portable hand lid is perfect for camping. The easy-twist spout lid is suitable for beach and hiking while the straw lid is great for cycling and gym. The water bottle is equipped with a carrying pouch so you can hydrate wherever you go.
f. ⭐Best for Sports
Sports like basketball, football, baseball, swimming lose a lot of water. You need to get serious hydration at that time. BUZIO Rock Gallon Series Water Bottle is 1 Gallon mega capacity to help you replenish water and recover fresh. Solid 18/8 stainless steel withstands impact inevitably occurs in intense sports. Make it simple to fill ice cubes through extra-wide mouth. Keep cold for 48 hours. The leak-proof screw cap and the band on carrying pouch are accessible with one hand, grip and go.
g. ⭐Best for Kids
For family health, it's necessary toseparate water bottles for adults and kids. BUZIO has a water bottle designed specifically for kids. 5 fancy cartoon prints win kids over for sure. A flip-up straw lid is opened with the simple flip of a ridge to make hydrationeasy for kids, so it doesn't come in contact with sweaty or dirty hands. A loop handle makes it easy for little ones to grip. It keeps beverage cold for 24 hours and hot for 12 hours. Food-grade 18/8 stainless steel bottle, 100% non-toxic BPA-free lid and hard straw, 100% safe for kids.
h. ⭐Best for Cup Holders
Trophy Series Water Bottle has T-shape appearance. Slim lower body is easy to slide into a cup holder. You will get the largest capacity of 32 oz in the standard cup holder. In addition, it has sealing lid to prevent spilling out even if it rocks in a car or on a bicycle. It can keep drinks icy for up to 48 hours and hot beverage hot for 24 hours. It comes with a straw lid and a flex cap so you can sip or swig at ease while on the go.
7. Conclusion
Today, the sports water bottle is an essential piece of equipment for any athlete. But it wasn't always this way. The first sport water bottles were nothing more than repurposed wine bottles. It wasn't until the 1970s that companies began to produce purpose-built sport water bottles.
Since then, the sports water bottle has undergone several design changes to become the convenient and reliable product it is today. So next time you take a sip from your sports water bottle, remember its humble beginnings and appreciate all the hard work that made it the perfect tool for staying hydrated on the go. And I believe BUZIO water bottles will be your best choice.